QUALITY UPDATE
Volume 16, Issue IR01, October 2016

Introduction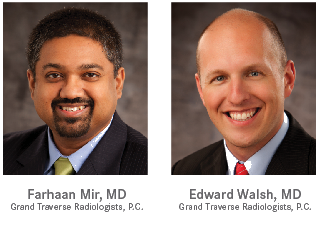 Grand Traverse Radiologists have had the privilege of providing lnterventional Oncology services to Munson Heathcare for years. In addition to diagnostic biopsies, vascular access for chemotherapy, and palliative drainage catheters, we now also offer our patients a full range of advanced targeted cancer therapies. These include ablation procedures such as microwave, radiofrequency, and cryoablation. Specifically for liver tumors, we also offer embolic procedures including radioembolization and chemoembolization.


Microwave/Radiofrequency/Cryoablation
Ablation is a minimally invasive procedure whereby one or more needles are percutaneously placed directly into a tumor with CT and/or ultrasound guidance. Microwave and radiofrequency ablation is primarily utilized for patients with isolated primary or metastatic tumors of the liver. These needles cause tumor cell death by heating the tissue to temperatures approaching the boiling point of water. Temperatures greater than 131 degrees Fahrenheit are generally required for cell death. Lesions measuring less than 5 cm are best treated by this modality.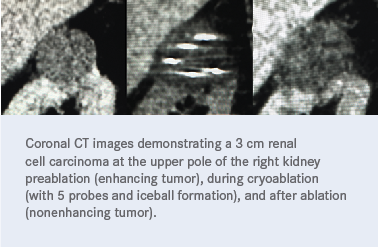 Cryoablation is similar to microwave and RF ablation in that it is performed by inserting needles percutaneously with CT and/or ultrasound guidance. Rather than using heat, cryoablation freezes tumors to achieve cell death. Temperatures near the needle drop to as low as -40 degrees Fahrenheit.
Multiple cycles of freezing and thawing are performed. Freezing the intracellular water causes the cell to expand and membranes to rupture.
Cryoablation is ideal for treating renal tumors as it causes less damage to the renal collecting system. Lesions less than 4 cm are best treated with cryoablation.
The recovery period from these ablation procedures is short. The vast majority of patients are discharged the same or next day. Post procedure pain is generally minimal and easily controlled with oral pain medication.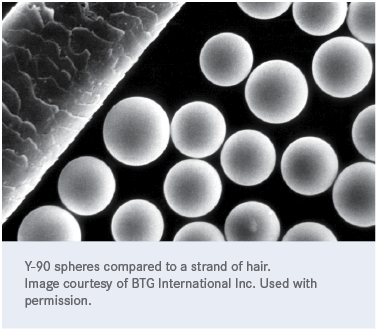 Radioembolization/chemoembolization
Radio and chemoembolization are used to treat primary and metastatic disease of the liver. The most commonly treated primary liver tumor is hepatocellular carcinoma, while colorectal and neuroendocrine tumors account for most metastatic lesions. These therapies are usually reserved for patients with unresectable, but liver dominant disease.
After detailed mapping of the hepatic branches, beads either loaded with a chemotherapy agent or radioactive material are delivered specifically into the branches supplying the tumor. The beads are appropriately sized so they become wedged in the capillary bed of the tumor and cause cell death over the next several days.

Conclusion
Grand Traverse Radiologists have always been proud to provide high quality lnterventional Oncology services to our patients. We are excited to expand our services to include the most advanced modalities in this field and look forward to serving our patients and the community for years to come.
Please contact the Interventional/Vascular Radiology doctors of Grand Traverse Radiologists at: 231-935-2861


Imaging Updates Archive
Issue
Download

Volume 16, Issue IR01, October 2016
New in the Line-Up of Interventional Oncology Services: Advanced Targeted Cancer Therapies

280k PDF

Volume 15, Issue WI01, June 2015
2015 Breast Density Legislation in Michigan

200k PDF

Volume 15, Issue CR01, June 2015
Low Dose CT for Lung Cancer Screening now Available at Accredited Sites

200k PDF

Volume 16, Issue IR01, April 2015
Imaging Recommendations for Pediatric Developmental Dysplasia of the Hip (DDH)

175k PDF

Volume 15, Issue MR01, February 2015
2015 Advances in MRI Services

163k PDF

Volume 12, Issue IR01, June 2012
Additional Therapies for DVT

705k PDF

Volume 11, Issue QA01, August 2011
Quality Update

390k PDF

Volume 11, Issue CT01, January 2011
Radiation Safety in CT

170k PDF

Volume 10, Issue IR02, April 2010
Continued Support for Vertebral Augmentation

192k PDF

Volume 10, Issue IR01, March 2010
Women's Health Issues-How Interventional Radiology Can Assist

330k PDF

Volume 09, Issue IR01, July 2009
Interventional Treatment of Vertebral Compression Fractures

680k PDF

Volume 09, Issue BD01, May 2009
Bone Mineral Density Reporting, FRAX Scoring

335k PDF

Volume 09, Issue BC01, February 2009
Breast MRI

515k PDF

Volume 08, Issue IR01, November 2008
Interventional Radiology Update

486k PDF

Volume 08, Issue NM01, June 2008
Nuclear SPECT-CT

756k PDF

Volume 08, Issue MRI01, March 2008
OPEN MRI SCANNER - Now Available

519k PDF